The company was created in 1979 when a Paris based group was asked to set up a fine metal processing factory at no more than a 200 km distance from the Mercure production site in Istres.
The teams were acquainted with aeronautics culture from the beginning and were able to acquire their expertise by producing pipes for the air conditioning system of the Falcon private commercial aircraft. FREGATE ENERGIE originally specialized in the forming of sheetmetal, its adjustment and welding.
With the years the firm diversified its aeronautic clientele, and began to work notably with Eurocopter and Zodiac Aerospace. It also broadened its range of expertise to include aircraft metal structures.
In 2007 FREGATE, a family-owned holding company took over and EFITAM became independent
In 2008 FREGATE ENERGIE was created to focus on equipment engineering for the industry and energy production.
Once the 2009 crisis was over, the consortium's activities expanded thanks to growing demand on the aeroplane market and to the modernization of nuclear plants.
Until 2015, FREGATE ENERGIE was known as EFIMEC Company. Today it belongs to GROUPE FREGATE, which also includes 2 sister companies: EFITAM and MAPE RGA.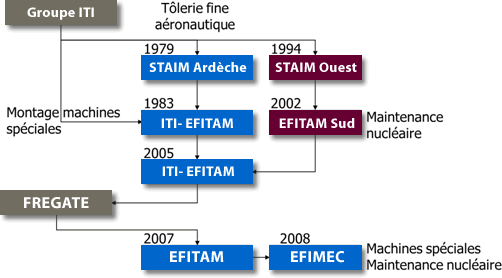 Frédéric Guimbal welcomes you
« Houses are not built on ideas, but on good practice. The idea is only 1% of the job, know-how is 99% »
O. L. Barenton, confectioner, by Auguste Detoeuf.
I can identify with the words of the famous industrialist which express my interest in industry. EFITAM is an industrial company that aims at producing high quality goods. In order to do that ideas must be applied but mostly they must put into regular practice to become what we now call standards.
Our whole team is dedicated to implementing and maintaining these standards at every level of the firm and in each of its activities to ensure top quality customer service.
Contact us and see for yourself
Hoping you enjoy surfing on our website